This summer, bring life to your indoor or outdoor party with creative floral decor. One of the most unique ways to add the beauty of flowers without having the skills of a floral designer is to incorporate the Dutch tradition of hang-dried flowers. Use  fresh flowers and keep them way after the party's over. 
The best thing about this idea is once you know the materials and methods to use, the options are limitless. You can make floral garland, hang flowers from an existing chandelier or a hanging wine rack, and even make a floral mobile for a delicate touch to a baby's room.
Here's a simple tutorial from blogger Cyd Converse that will surely give you the basics you can build from.
Long floral stems, like these Snapdragons and Bells of Ireland

Inner ring of a 10″ embroidery hoop

Washi tape

Clear thread

Needle

Small metal ring or clip

Scissors
Step 1: Start by wrapping the embroidery hoop in washi tape. Wrap the tape around until the plain hoop is covered with your favorite washi color.
Step 2: Next, clear the leaves from the stems of your flowers. Then trim each stem to about 4″ from where the blooms end.
Step 3: Thread a needle with clear thread. Insert the needle through the end of the first stem. Pull the thread all the way through.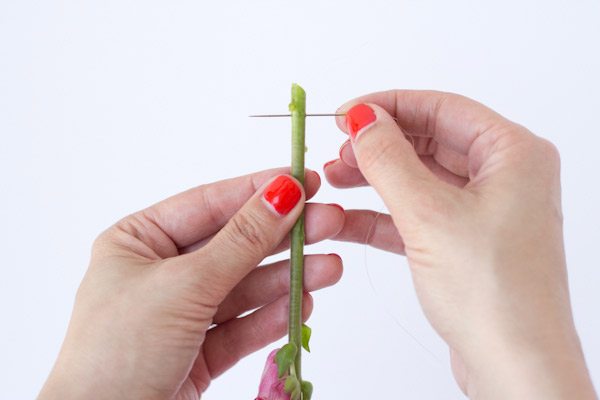 Step 4: Tie the thread around the embroidery hoop so that the flower hangs a little below the hoop. Secure with a double knot and trim the ends of the thread. Continue in this way until you're happy with the amount of stems tied to your hoop.
Step 5: Cut three long pieces of clear thread. Tie them around the hoop equidistant from each other so that the hoop is supported at three points. Bring the three pieces together at the top and tie them to the metal ring or clip, being sure that the hoop of flowers stays level. This will ensure that the chandelier hangs evenly.
Read more from the original post found on thesweetestoccasion.com.
 Photo credit: Pinterest