Use These Airbnb Tips To Help You Plan Your Dream Vacation
These Airbnb tips can go a long way toward ensuring you'll find a pleasant place to stay in while you're visiting destinations around the world.
In the last year and a half, I've rented Airbnbs in Hong Kong, Boracay, Bangkok, and Xingping, just for starters. In these cities, I've rented everything from a two-bedroom villa to a rollaway cot in a wide-open room and just about everything in between. I've learned a thing or two to share with the Airbnb nonbelievers who think you have to give up all the comforts of a hotel. Some trips went off without a hitch. One place was so bad that I canceled my stay and moved to a hotel two hours after I arrived. But I'm glad I didn't let that one bad experience ruin things for me because, despite a few bumps along the way, Airbnb has pulled me out of tourist traps and into real neighborhoods with real people. They are the reason I have friends all over the world and have been able to get a more authentic peek at so many places without breaking the bank. In the end, you can learn from my mishaps and see why I still love this new way of finding a place to lay my head every night.
Don't Get Catfished

Scroll through Airbnb listings in just about any city around the world and you will find beautiful views of oceans, mountains, or cities, luxury kitchens, and the perfectly decorated bedrooms and bathrooms of your dreams. A word of advice: Assume the pictures on the listing are a best-case scenario—especially if they were not taken by an Airbnb photographer. (Look for the Airbnb logo on pictures their photographers have verified.) I learned this the hard way on a trip to Bali, Indonesia. I let myself get carried away with fantasies of Julia Roberts in all her Eat, Pray, Love glory and chose an open-air treehouse in the middle of the jungle in Ubud. The pictures sparkled—literally. The host edited the pictures to add a glow to every light fixture and took every photo from the best possible angle to make the places seem spacious, clean, and inviting. In retrospect, I don't know how I was fooled. When I got there, the indoor-outdoor living was more "rustic" than I anticipated, with a mattress on the floor upstairs, trails of ants everywhere, and a spider the size of my palm in the living room.
I dropped off my bags and walked to a nearby restaurant. On the way back, the fear of being eaten alive by the ants set in and I checked into a hotel that was between my Airbnb and the restaurant. The hotel caddy drove me back to the Airbnb to get my bags. That was by far my worst experience. Don't be like me and fall for deceptive staging because you want to live in a movie.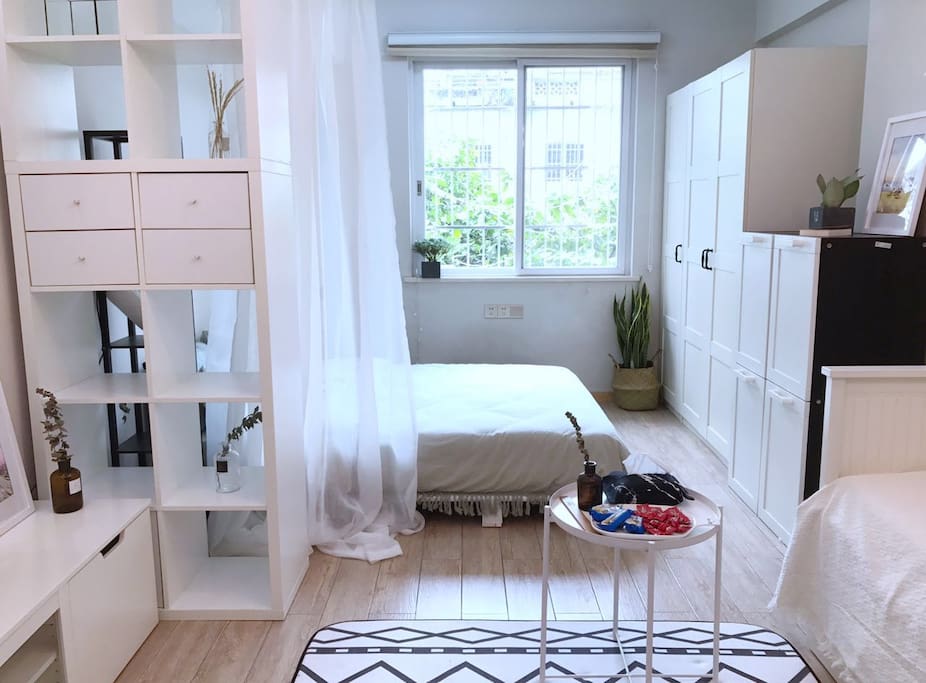 Beautiful, clean Airbnb apartment I rented in Guangzhou, China
Read Everything on the Listing—Your Vacation Depends on It

Start with the reviews and check for any red flags. Are there any common complaints? Is the host a little too aggressive when responding to criticism? In one of my less-than-perfect experiences, a previous guest who had rented a private room complained that the host was extremely particular about cleaning to the point of neurosis, and later I had the same experience. In my case, she monitored how quickly I washed dishes after cooking. Too fast and she was afraid it might ruin her pots. Too slow and she was upset that the kitchen looked messy. I never did find the sweet spot that pleased her.
Make sure to thoroughly read the house rules. I skipped the rules section once and learned that a Beverly Hills room that I booked for a month had a midnight curfew. If I wasn't in by midnight, the host would put a deadbolt on the door and I'd be locked out. Not exactly an ideal situation for an adult who has paid good money to stay with someone. The host and I didn't exactly become besties.
Since Airbnb won't give you the exact address of your rental until after you book, you can zoom in on the map to cross streets to get a better idea of the home's location. Pop the cross-street location into Google Maps and take a virtual tour. 
If you ever see anything in the rules, description, or reviews that worries you, remember to message the owner before you book. Conversations with them can either ease your concerns or confirm your suspicions and save your vacation.
Your Airbnb Can Be Your Vacation
Although my first experience in Bali was questionable, I spent a month there, and that meant two more Airbnb stays in new cities. One of my stays was at the guesthouse of Akasa School, a small nonprofit that taught local children English and math as a supplement to their public school education in Tabanan, a rural part of Bali. How rural? I saw only three other tourists during my two weeks there, and I was about 99 percent sure I was the first Black person almost everyone I met had ever seen in real life. They were the nicest people, but I know they were sorely disappointed by my lack of a personal relationship with Beyoncé and Barack Obama (me too, me too).
In exchange for dirt-cheap accommodations in a gorgeous guesthouse, I spent about eight hours a week teaching English to kids in Bali, and it was life-changing. Teaching took up only a tiny portion of my day, and it was an experience that was unique to the Akasa School.
Hermits and Social Butterflies Are Both Welcome

While I like to book trips on my own, that doesn't mean I want to spend every moment in solitude, and it can be tough to meet new people and make friends quickly. When you book an Airbnb, it's worth considering your social needs as well. I chose an entire apartment in Washington, DC, when I was there on a business trip because I knew I needed a quiet place to decompress. I booked a private room with a breathtaking view in Mexico City, where I wanted some social interaction with the host but also wanted the freedom to wander off on my own. I rented a hostel-esque co-working/co-living space in Los Angeles when I knew work would make it tough for me to get out much, so I wanted to bring the friends to me. Every experience was different and worked out, whether I was feeling social or needed more alone time.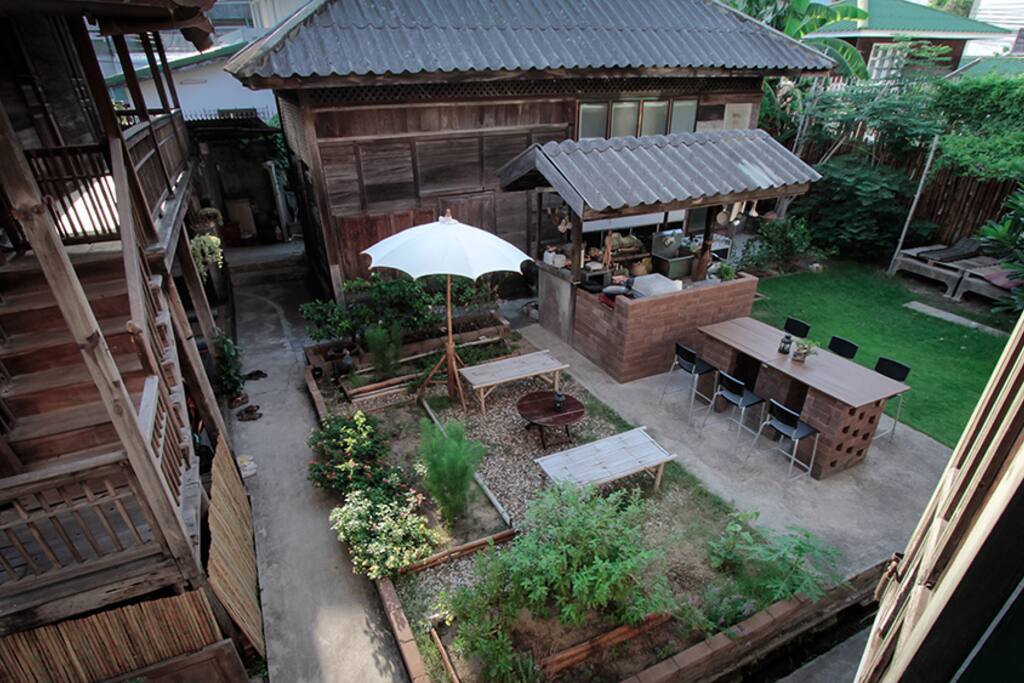 The common area of a private-room hostel in Bangkok found on Airbnb
Make Sure Your Schedule Is Set in Stone

This one is simple: Canceling a room can be a hassle. Before you book, make sure your itinerary is ironclad, because most cancellation policies are strict. After a nasty bout of food poisoning in Mexico, I canceled the Texas leg of my trip and decided to head back home instead. I lost out on almost $200 because of a strict cancellation policy. Some hosts are flexible, especially if you just need to change your dates, but if you're canceling altogether, most hosts stick to strict cancellation policies.
You may also want to be prepared in case a host ever cancels on you. It has only happened once for me, and it was at the last minute and was very inconvenient. But I just called Airbnb's customer service line, explained what happened, and they took care of it.
When a host cancels, you will receive a refund, but it can take a few days for the money to get into your account in order for you to book another place. That can be a major inconvenience if you don't have the cash on hand to book again but need a place ASAP. When it happened to me, Airbnb gave me a voucher for a few free nights, and I was able to pay for the rest of my stay once the money was back in my account. Everything was worked out in less than 30 minutes!
Live Large

This brings us to my last and possibly the most fun bit of advice. Remember that you are renting a real home in a real neighborhood. Live your dream life for a bit (but always be respectful of neighbors). I will never forget the villa I rented with a friend in Bali, where we each had our own bedroom and private bathroom. We woke up to the sun rising over the pool and palm trees every morning while enjoying fruit and Balinese coffee before heading out for the day. We could walk to the beach, and shops and restaurants were in the neighborhood. It all cost a fraction of what a hotel suite, half its size, would have cost. Living large doesn't have to bankrupt you.
My default is to be overly optimistic, so in the past, I made some obvious mistakes that could have had the potential to ruin some trips. But if I would have written off Airbnb out of fear, I would have missed out on some awesome experiences and friendships. If you're worried about whether you can have a good time in someone else's home, just know that the tips here can help ensure that you get just the right place to stay.
Read more from the original post from onshegoes.com, written by the author, Desiree Stennett.
Photo credits: Airbnb.com